EUROPEAN GRAMPIANS - "CROSS BANKS"
---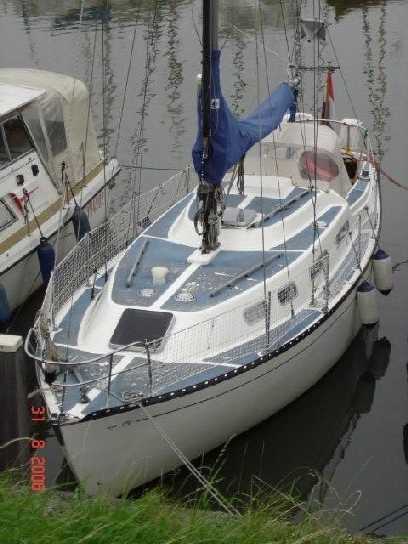 Grampian 2-34, sloop
Built March-May 1978, Porter & Haylett, Wroxham, Norfolk, GB (+44 1603 782472)
Hull no. 2328 Engine no 4052 (Volvo Penta MD11C)
She is a rare example of a luxury fitted Grampian 34. Full wooden cabin floor in teak, extra bunk aft and custom finishing of the upholstery. She has been in our family for twenty years and is currently undergoing a refit by us, the next generation (third owners), with much TLC.
Her treadmaster decking has been painstakingly removed and Flexiteek was fitted. In the process all deck fittings were removed and overhauled. Water and Fuel fillers and lines and hatch seals replaced. The spars (S&S) are all inspected and a 22-inch radar reflector fitted to the mast top assembly. Further improvements carried out are new genoa tracks and blocks (Lewmar T-track), installation of heater and replacement of pot.water pump. Planned are built in refrigerator, boiler, replacement of original instruments with up-to-date navionics and anchor windlass/bow assembly for our CQR anchor. Her engine a Volvo MD11C is directly cooled and in fair condition. The recently overhauled alternator feeds 3 split batteries of 100Ah ea. Shore power and chargers (2x15A LEAB trickle) were fitted some 6 years ago.
Her underwater hull has been stripped to the transparent gelcoat and was found to be dry and showing no mentionable signs of osmosis (survey carried out by International Paint). Next step was to apply 6 coats of International Gelshield 200 epoxy and finish with two coats of Interspeed copper antifouling and we're ready to go. Spent some 500hrs of work on her over last two years, all well worth it.
'Cross Banks' is berthed at Sint Annaland YC, The Netherlands.
Original documentation is available and would be happy to share with other owners. I am in the process of scanning the original manual provided by the yard at launch in '78. Will send a copy to Grampian Owners web site when completed